Frontend
We are in a constant state of UI honing, to make it even more convenient for you. First of all, we fixed the navigational menu, so it does not hide if you move the cursor away from it. To close the menu, click "hamburger" icon again.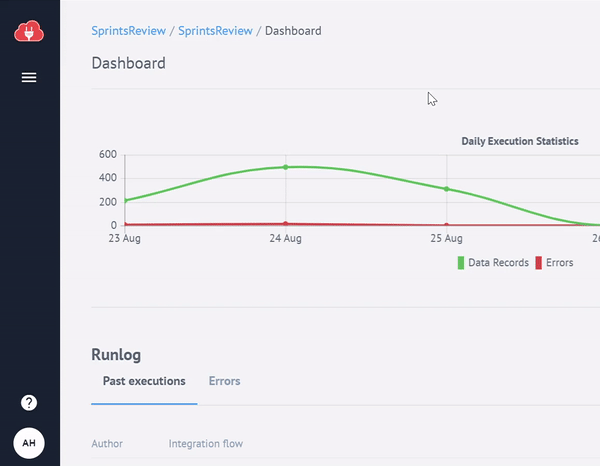 IMPORTANT: Please don't forget that from now on your company logo will be moved to the navigation panel. For proper display, please make sure that your logo complies with the following requirements:
Logo shape - square

Logo size = 40x40 pixels (smaller logos will be centered with whitespace around them)

Logo format - .PNG or .SVG
Recipes
You can now use Recipes to simplify Flow creation. Basically, a Recipe is a template of a working integration Flow. It has the following conditions:
A Recipe may not reference any credentials

A Component in a Recipe must always be versioned

Mapping expressions may contain variables to be replaced with values during Recipe activation. You can perform CRUD operations with Recipes and create a flow from a recipe using API. You can find examples here. Please note that the section is an experimental API.
IMPORTANT: Recipes are beta right now, so we don't recommend using them with critical data or production.
Alerts
Not to let you waste any time, we have added handy alerts that will notify you of any important changes in your flows statuses:
All Contract owners will receive emails upon exceeding 80%, 85%, 90% and 95% of resource usage quota

All users that subscribed to errors on a particular integration Flow will receive an email if the Flow gets suspended
Other
You can now send a sample request to Webhook. Here is the new process of Webhook setup:
1. Generate a unique URL for the Webhook to post sample data to and present it in the UI
2. Send a sample request to the given URL. Once the request has been sent, it is stored in the DB.
3. The sample is retrieved by ID and is used for mapping. Sample URL is active for 10 minutes.